April 2023 saw the launch of the brand-new podcast series 'Football Untold'. The podcast aims to examine the dark side of football, in particular it's relationship with gambling-related harms. The six-part series will feature open and honest conversations with ex and current footballers who have been affected by this issue. Hosted by Mick Coyle, the series provides insight into how anyone, no matter their earnings or social status can be impacted by gambling harms as a group of successful footballers tell their story.
The first episode features former Blackpool, Burnley and Preston North End player Clarke Carlisle, as he discusses how his gambling led to an attempt to take his own life, while episode two features former Tranmere Rovers forward Simon Haworth looks at how a career ending injury, and adverse childhood experiences contributed to the harm he experienced with gambling.
The series will also include signposting tools so people can get support if they've been impacted by the issues raised and details of how to contact the team at here Beacon Counselling Trust.
The Football Untold YouTube channel already has over 39,000 views with only two episodes released so far, and with the accompanying social media campaign also reaching thousands of people this series will play an important role in BCT's work to reduce gambling-related harms, and provide support for a previously unreached demographic of people across the North West.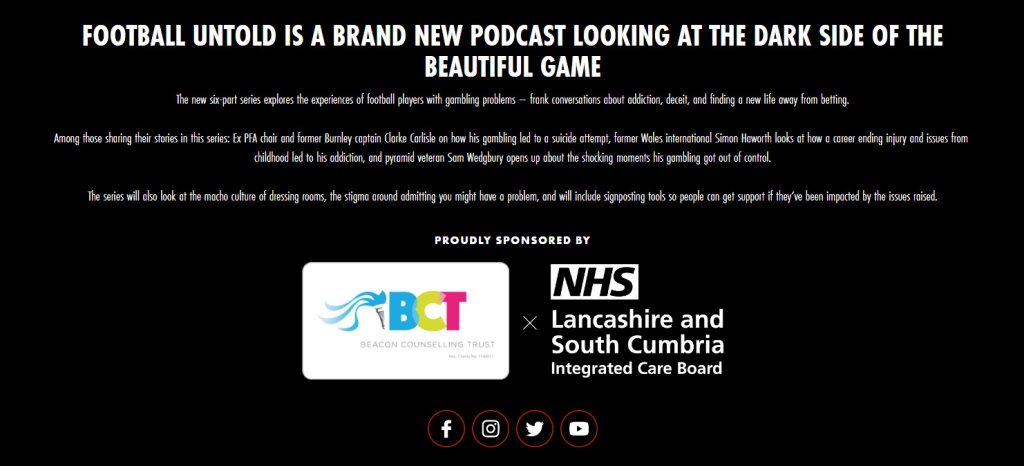 For more information about the brand-new podcast series 'Football Untold' visit: