Paul's Place Awards and Achievements
Liverpool Hope Leaders Club Award in Health and Social Care
In 2018, Kathy Devlin one of the founders of Paul's Place and Clinical Manager at Beacon Counselling Trust was awarded the Liverpool Hope Leaders Club Award in Health and Social Care. Kathy won this award due to her leadership skills, dedication to Paul's Place and how she is always willing to offer help and support.
Kathy was nominated by a service user who said:
"We know that we would not be where we are at now, if it weren't for the invaluable counselling we have received at Beacon Counselling Trust."
You can watch Kathy talking about Paul's Place and how delighted she was to have been nominated for this award, especially for the recognition for Paul's Place: https://www.youtube.com/watch?v=lt3Y59Az-gY
The National Lottery Community Fund
In 2019, Paul's Place Suicide Bereavement Support Service were presented with a cheque for almost £338,000 from the National Lottery Community Fund.
The support offered at Paul's Place is unique, in that it is not replicated anywhere else throughout the UK. Our 3 co-founders all share a lived experience of loss to suicide and as such, recognise and understand how important and necessary it is to be able to receive specialist one to one counselling and peer group support, when you have been bereaved in such tragic and devastating circumstances.
This 3-year grant has had a huge impact on the vital and lifesaving work we do for our Paul's Place Programme and has enabled us to roll out the service across the whole Merseyside area, something we could never have hoped to achieve without such a massive cash injection.
Queen's Award for Voluntary Service
In 2021, Paul's Place were very honoured to receive the Queen's Award for Voluntary Service.
We were absolutely delighted and so very proud that our Paul's Place volunteers are being recognised with this collective MBE. This prestigious award is a huge tribute to their invaluable work. Many of our volunteers have themselves been bereaved by suicide and their dedicated commitment in wanting to give something back is truly admirable. Their continued help and support is pivotal in enabling us to carry out the vital and life-saving work that we do.
HELLO Magazine Inspirational Award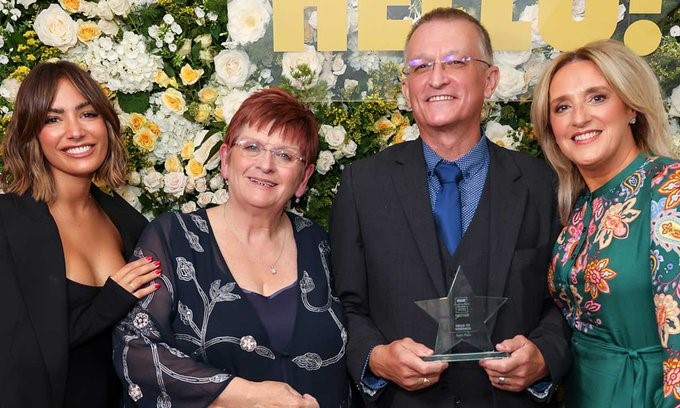 In 2022, Paul's Place founders Kathy Devlin, Agnes and Joe Williams were the were the winners of the #HellotoKindness 2022 Hello! Magazine Inspirational Awards.
Frankie Bridge presented Paul's Place with their award: 'It's a massive honour for me to be here today as someone who has suffered from mental health my whole life and having had those moments of ending their life. To have people there to help you with that can make a massive difference. So many people, especially with what's to come, need people like this. Congratulations, it's so deserved."
Speaking to HELLO! about their award, Kathy said: "This was born from personal tragedy, both families, and for the people that are left behind because there isn't any help out there.
"We've got to strive; our mission is to get a Paul's Place in every city. Suicide affects everybody, not just the poor or rich, the people left behind need help."
The One Show (One Big Thank You) Award

In 2022, Kathy received A One Big Thank You thanks to the BBC The One Show and Strictly's Shirley Ballas.
Every week The One Show likes to give One Big Thank You to someone who's gone the extra mile to help others in their community and we couldn't think of anyone more deserving than our own Paul's Place Co-Founder Kathy. Over the last 5 years since Paul's Place was launched, Kathy has helped so many individuals and families who have been bereaved by suicide across Merseyside. Kathy's work and impact was highlighted by Shirley whose brother David took his life 20 years ago "If I had someone like you to sit and talk to, my mother and I, perhaps we wouldn't have carried this guilt for 20 years".
Kathy was under the impression she had been invited to be interviewed about Paul's Place, it was up to Shirley to break the news to Kathy that today was all about her. "I'm here on behalf of The One Show to give you One Big Thank You for all the work that you have done to help so many families, to be there for people, for everything that you've created in Liverpool."
Shirley continued to unveil more surprises for Kathy when she led her to a group of her family, friends and Paul's Place clients who were waiting to great her with a heartfelt and well-deserved round of applause. Video messages from Kathy's family, friends, colleagues and celebrities thanking Kathy for her work were played to an emotional audience with Kathy trying to take in the love and gratitude around her.
We are so proud of Kathy for everything she's created at Paul's Place. We believe we can say on behalf of our community, One BIG Thank You Kathy.