The Young Peoples Gambling Harms Prevention Programme
Beacon Counselling Trust (BCT), working in partnership with Gamcare, have been commissioned to spearhead the delivery of free gambling related harm workshops across Merseyside and the North West of England with a focus on supporting young people. This work encompasses a wider national drive, across 8 regions within the United Kingdom, to address the risks associated with gambling-related harms over a 4-year period.
As a partner, BCT provides a specialist function in addressing gambling-related harms and acts as a champion to schools, youth organisations and local authorities across the North West of England. Our offer is also available to any professionals who work with young people in a supporting role, and to parents and caregivers. During 2022/23 BCT reached 4516 young people and 1854 professionals and parents, engaging them in factual and needs led education concerning gambling issues. Our work covers a wide range of disciplines such as teaching, youth work, health, criminal justice and children's social care.
Beacon Counselling Trust & The Young Peoples Gambling Harms Prevention Programme
BCT are offering free educational workshops to any organisations that work with young people aged 10 - 19 years. This includes schools and youth organisations, within the statutory and voluntary sectors. As well as free bespoke CPD accredited training to professionals who engage young people from a range of disciplines, with an emphasis on safeguarding children and young people.
The ethos of this programme is to provide accurate and honest education to young people, whilst encouraging them to recognise relevant issues so they are able to make safer more informed choices about gambling. This is also underpinned by providing professionals with the knowledge, skills and confidence to support vulnerable young people and intervene at the earliest opportunity concerning gambling related harm. In addition, a core function of the BCT Young Peoples Gambling Harms Prevention Programme is to enable young people and professionals to be more aware of gambling-related harms, enabling them to seek out relevant and appropriate specialist support as and when required.
BCT is committed to extending its reach and increasing its engagement with our service users over the course of the next four years across the North West. Concerning problem gambling related harm issues with an emphasis on ensuring the wellbeing and safeguarding of young people.
feedback from professionals
What people have said
What professionals have said about the working in partnership with Beacon Counselling Trust on the Big Deal Programme:
As we have now concluded the final gambling workshop, I wanted to thank you for delivering these sessions. The sessions were excellent and have prompted lots of discussion around school with our young people due to so many being able to relate to this issue personally. I feel that lots of our students were not aware that this type of gaming activity is actually classed as gambling and so has been the subject of many debates during morning tutor and break times.
The materials you kindly left have not only supported these discussions and debates but have also ticked a box for us as a school as this falls under the new  PSHE framework and this will be compulsory for all schools to deliver from September 2020.
Feedback from students has been very positive and all those involved  have really enjoyed the session you delivered, so much so I recommend you and Beacon Trust to one of our partners (Princes Trust). Thank you for coming into our school and sharing this opportunity with us, you made learning interesting and fun and I hope to work with you again in the near future. Thanks again
"The presentation was very well keyed towards what each group was interested in, what they knew, personal experiences, and knowledge. Pupil's aware when they are involved in gambling and many can identify signals to identify problem gambling and where to go for help. They liked the video's."
"Thanks for coming in yesterday to do a session for our Year 10`s and 11`s on gambling awareness. The feedback from pupils , teachers and teaching assistants has been very positive. The sessions have been well pitched and engaging with a good mix of activities such as a quiz , q and a and video clips. I feel this has really benefited our pupils especially recognising what gambling is and where to get help."
I would personally like to thank you for your engaging, informative and empowering sessions on The Denton Community College Life Long PSHE day.  These days would not be  possible for our 1303 young people,  without your constant support and partnership work to hopefully change our young people's lives for the better.  All the sessions received 100% positive feedback and the students learnt something new.  We are already receiving lots of questions from students about the session content. Tameside reporter and Denton Correspondent have included coverage of the day in their local newspapers.
Just a quick email to say Thank you. Our students really enjoyed the problem gambling sessions, which have been invaluable to our school and we would be grateful if you could support us again in the future. Thanks
Thank you for your input with our young people at the Brunswick Youth Centre. It would be great if you could come back to our centre in the future as your work makes a real difference with our young people.
Gambling facts
Young People and Gambling in the UK
The Gambling Commission's annual survey of young people aged 11-16 years found in 2022 that 31% of young people had participated in some form of gambling in the last 12 months prior to taking part in the survey with 23% had reporting that they have spent their own money on a gambling activity in the 7 days prior to taking part in the study. The key facts below reflects the key finding from the study.
Key facts:
31 percent of 11 to 16 year olds spent their own money on any gambling activity in the twelve months prior to taking part in the survey (2022).
During that period, the most common types of gambling activity that young people spent their own money on were legal or did not feature age restricted products, namely:
Playing arcade gaming machines such as penny pusher or claw grab machines (22 percent).
Placing a bet for money between friends or family (15 percent).
Playing cards with friends or family for money (5 percent).
23 percent of young people spent their own money on regulated forms of gambling.
The youth-adapted problem gambling screen (DSM-IV-MR-J1) identified 0.9 percent of 11 to 16 year olds as problem gamblers, 2.4 percent as at risk gamblers and 27.3 percent as non-problem gamblers.
Most (78 percent) young people who spent their own money gambling in the last 12 months, did so because they regard it as a fun thing to do. Whilst one in five (21 percent) agree that gambling makes them feel happy, more (29 percent) disagreed that it made them happy and the same proportion (29 percent) were unsure either way.
Three in ten (28 percent) young people had seen family members they live with gamble, of which 7 percent indicated it had resulted in arguments or tension at home. However, one in ten (11 percent) said that gambling by a family member had helped to pay for things at home for example holidays, trips or clubs.
A minority of young people who were actively involved in gambling had lost sleep at night because gambling meant that they went to bed late (2 percent) or because they were worrying about their own gambling (2 percent) either all of the time, often or sometimes.
Boys are more likely to be classified as at risk gamblers (3.2 percent) than girls (1.8 percent).
PARTICIPATION IN GAMBLING IN THE PAST 12 MONTHS (11-16 YEAR OLDS) – 31% of 11 to 16 year olds have spent their own money on any gambling activity in the past 12 months.
HOW MANY YOUNG PEOPLE (11-16 YEAR OLDS) SPEND THEIR OWN MONEY GAMBLING – 23% of young people spent their own money on regulated forms of gambling.
HOW MANY YOUNG PEOPLE (11-16 YEAR OLDS) OBSERVE FAMILY MEMBERS GAMBLING – 28% of young people have seen family members gambles with 7% observing tension as a result.
HOW MANY YOUNG PEOPLE (11-16 YEAR OLDS) WORRY ABOUT THEIR OWN GAMBLING – 2% of young people lose sleep worrying about their own gambling either all of the time, often or sometimes.
HOW MANY YOUNG PEOPLE (11-16 YEAR OLDS) ARE AT RISK OF GAMBLING – 5% of young people are classified as at risk gamblers with boys found to be more likely to be classified as at risk gamblers (3.2 percent) than girls (1.8 percent).
Source:
Statistics and research release: Young People and Gambling 2022
Gambling Commission report produced by Ipsos on young people and their gambling behaviour, attitudes and awareness in 2022.
Big Deal
Big Deal is sponsored by Gamcare. It is a website that is designed to provide young people aged 11 to 19 with information regarding risk and responsible gambling. Advice and support for gambling-related harm is accessible for the individual, or a family member or friend.
Learn more
Useful BIG DEAL Resources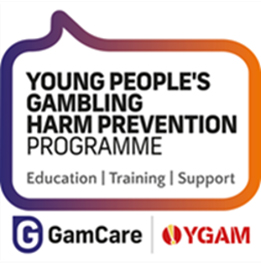 GamCare launched the Young Persons Gambling Support Service in September 2020. They have a team of specialists who provide free, confidential, one to one support and treatment to anyone aged 11-18 who is experiencing gambling related harms. A referral can be made into the service by the young person themselves or by a parent/ care giver/ professional, and the young person will be contacted for assessment within 24 hours. Support is also available for those surrounding the young person who may have also been impacted because of gambling.
For more information about the Young Persons Gambling Support Service:
To find out more information about the Youth Outreach Programme or to discuss taking advantage of these free workshops or training courses please contact Beacon Counselling Trust on: